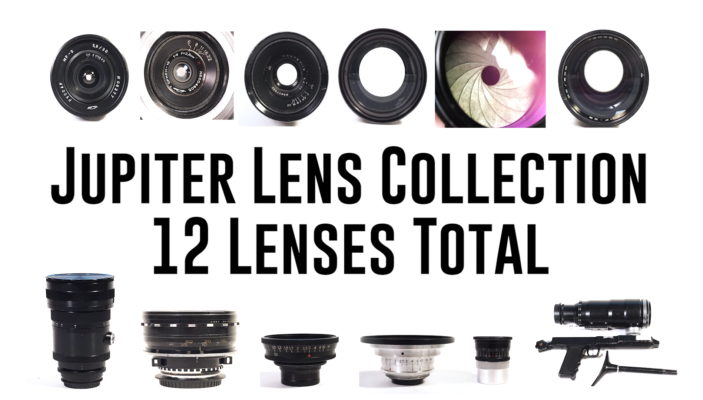 The Jupiter lenses are the most mystifying. I find that these lenses lend themselves to a look of person-vs-self contextual conflict. the Jupiter 85mm is the most known of these lenses and is a telephoto. The entire set is a telephoto setting. So when you get to wide angles, they are all Rangefinders. Which is a new concept to the field of cinema? These lenses can and should be played around for the purpose of having the divinity of a movie that appears far away, just as one's own thoughts are. The lenses have an unreachable look! I don't have much to compare them to, because they haven't been established as a filmmaking look. But, I've felt it lean towards psychologically, concerned reach for the subconscious mind's ideal reality. These lenses really make me think about the Twilight Zone and the passage of time. They are more than what a lens can do, and they reveal the science behind glasses reach to the center and what distortion can be revealed. They also have very natural and beautiful flares. And the colors!
[Rangefinder Lenses: Only mount to (Sony A7, Canon RF, Panasonic S1, Nikon Z)
The Jupiter lens is one of the most practical, yet unpractical looks I have ever seen or held. What makes them so practical is that their distortion is so very low, their colors are some of the best and most natural I've EVER SEEN! Their flares have a deep blue pattern, which provokes a search for deeper meanings in thought patterns. The way this is done with the wide angles is by having the glass placed SO CLOSE to the sensor. This brings me to the unpractical side of things. These wide-angle lenses cannot be mounted to a Red or an Arri, but I have the Rubin-1 Zoom lens WHICH CAN SERVE as a close wide-angle representation of what the Jupiters can do on either a Red or an Arri. The other four primes from 20-50mm I have only ever used on an A7s i or ii, which definitely improved upon the color science of the a7s. This made me realize that these lenses could be used for people who either wanted to save money and give it a low distortion look, but amazing flares, so they decide to go with the A7s and thus go with these lenses. Or it could go to the crowd who is already shooting on the Sony A7s or any other short-flange, large format sensor cameras, and find out how unique these lenses are, so they decide it would be a win-win to shoot with these lenses and that by doing so, they are starting a new trend of movie looks that still look orthodox, but have a serious mystery that will make audiences members feel new and old standards, and that will give them EXCITEMENT!!!!
---
The Russar and the Orion are the closes match to the Jupiter set. Once I realized that distortion was the key to learning how Russia bent their lens brands into matching in hidden ways. I was able to find the Orion and Russar, both searching through eBay and by reading through the Index of "The Authentic Guide To Russian and Soviet Cameras" By Jean Loup Princelle. I wanted a Jupiter lens set and thought it would end at the 35mm as the widest. The Russar and Orion have small F Stops. That is part of what gives them their classic look. As opposed to Voitlander lenses, which in my opinion, are TOO PERFECT! The Jupiter lenses have near imperfections that only serve to enhance the natural beauty around them. Also, shooting on the A7s, it is one of the best low light cameras ever. So for classic filmmakers and DPs, the small F-stop should not matter. Also, something to mention is the Tair lenses. Both at 300mm. Surprisingly, they are both very practical to have! One is a regular lens with a focus and iris ring. The other, the Photosniper, is more of a fun-handheld option that lets you use the lens like a gun, with shoulder placement. It's very comfortable and smooth and works almost seamlessly with the A7s attached. What's true is that, without this gun-style of filmmaking, this lens would hardly be possible to hold smoothly. It's not a traditional way of shooting, but for us trendsetters, we obsess over the obsession. Either that or a behind the scenes filmmaker could pick up some BTS shots with it. It's perfect for that because it's very fun to use. Since now, anyone can feel like the Camera-Man version of Arnold Schwartzenegger! Lol Hahaha The 85mm and the 180mm are the two best Jupiter lenses in the set, that can be mounted to EF. But the 35, is probably my favorite lens of all time. All the pictures I have taken with this lens instantly have a classic look. It's keeping a digital representation of what 35mm film looks like, in this lens. The 50mm, with its 1.5 aperture and the look of the lens, allows it to prevail in captivating the senses. Again, this set is truly new. Entirely, it has not ever before been used as a cinematic collection. The 20-50mm primes are in L39 mount, which can be adapted to numerous mounts. It's worth mentioning, the 20 and 35mm optics come extremely close to touching the sensor, that Fotofox makes a Close Focus Adapter from Leica M to Sony, and they do for other brands as well. I have one for Sony, which completes the process for how to quickly, accurately and flexibly change lenses in between setups. The close focus adapter is quite useful. It makes all of these lenses macro lenses. It requires a Leica 39 - Leica M adapter and then the Close Focus Leica M to Sony-E Mount. The other lenses can be adapted from EF to Leica M (which is included) so that you can use all the lenses with the close focus adapter. And that would definitely be useful. Once you get to the 180mm you would have to support the lens because of the weight.* **Additionally, I have a 133mm Tair 2.8 lens. I put this lens in the Mir set to branch out the Tair lenses, however, it is semi-suggested that lens also is used with this setup. Let me know if you're interested in also shooting with this lens and we'll work out a negotiable rate.