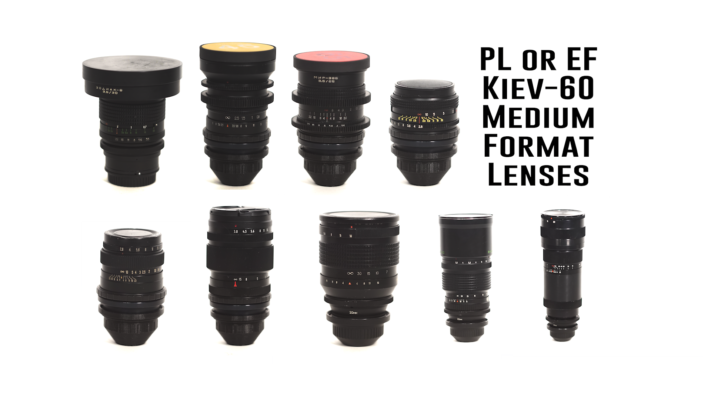 PL is still an often-used lens mount. Two different mounts in Russia were for Medium Format Photography Lenses. Salut-88 and Kiev 60. I have found both adapters can be adapted to PL and to EF, however, Kiev-60 has the advantage of being able to be made into a tilt/shift lens when adapted to EF with the right kind of adapter. So for that reason, I bought an entire set of Kiev 60 Medium format lenses from Fisheye to Telephoto that can all be mounted in either PL or EF as a Tilt/Shift.
I assume most will value this set as being adaptable to PL than it being Tilt/Shift adaptable. I personally find that having tilt/shift is great for the fisheye and then just the tilt is fine for the 45, 65 and 80. The more telephoto the lens, the less noticeable the tilt-cinematography is going to be. I find that having tilt/shift control over a fisheye is quite a cool realm of control.
Zodiak 30mm f3.5
Mir 45mm f3.5
Mir 65mm f3.5
Volna 80mm f2.8
Vega 90mm f2.8
Petzvar 120mm f3.8
Kaleinar 150mm f2.8
Jupiter 250mm f3.5
Tair 300mm f4.5
---
These lenses are all f2.8 and f3.5. As medium format lenses are usually slower, because they cover a larger portion of a film gate-digital sensor. So your depth of field will decrease as your sensor gets larger.
They have a fairly consistent look of clear flares and amber colors. For camera men shooting on PL only. Such as the Red One and the Arri Classic. These will be a very nice and more affordable option to filming on ergonomically-cine made photo lenses from Russia. These lenses are all good full-frame options as well, althought I have only seen a bit of vignetting on the 300mm f4.5. That lens has diffraction, which is not too good for photography, but I think it looks quite great for cinema. Diffraction is an imperfection I am rather fond of where the bokeh in the background doesn't look smooth; but rather hard. It is also accompanied by swirly bokeh!
The Petzvar lens is a rare lens that I see as very similar to a Helios 58mm because it has swirly bokeh, however the color/colour tinge of the lens opens up a lavender palette. The bokeh is the most exceptional part about this lens, but the colors also lean toward a very historic or even political look.
Each lens has different imperfections that make them each unique.