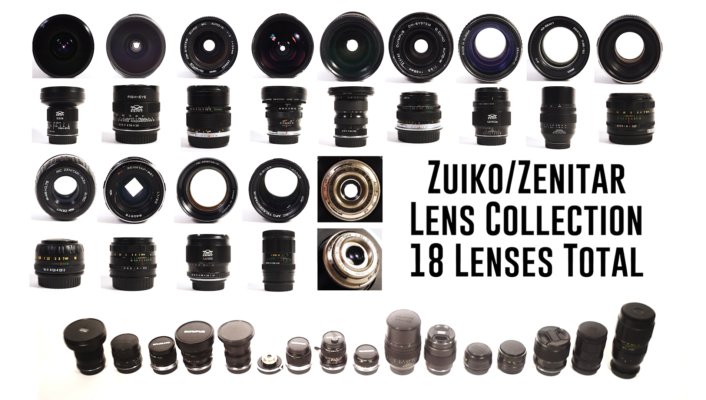 The Zuiko / Zenitar lenses fill every other niche, need and look, both in linear experimentation and non-linear experimentation of film. It can also be used for classical, traditional, new, and new-wave or new age looks for filmmaking. It has the widest span of possibilities. It includes lenses, sharp-yet-soft, a square bokeh 50, a shift 24, a shift 35, some very wide f stop lenses, both Zuiko and Zenitar, and also the fastest Zenitar lens ever made, the 50mm f0.95 which is amazingly sharp when the focus is nailed. This lens will allow aesthetically boundaries to be pushed without quality being sacrificed, yet not without alleviating the risk of not hitting sharp focus. Overall, these lenses are very clean and it's hard to find a single bad thing to say about them. Their fisheyes are also great standards for fisheyes! These create a statement about the set, but by all means, people do not have to use the fisheyes if they intend on shooting practical and orthodox styles of filmmaking. All of these lenses are optically and mechanically sound and, overall has the most potential to create a vast array of looks!
---
The Zenitar lenses may confuse a lot of people because your purpose has to be very particular with a very vast arsenal of lenses. It takes a lot of skill and knowledge just to be able to use these lenses as many are more for experimentation rather than practical shoots. Namely, the fisheyes, shifts, novelty lens and the Square iris shot. The ideal use of these lenses is for music video filmmakers, but also filmmakers wanting to branch out into new territory. The Zuiko lenses offer very fast-rectilinear wide angles and a few shift lenses. The shift lenses are for modifying distortion before filming it by shooting through either the top/bottom/left/right of the lens! They are both very great optical and ergonomic lenses!!
The Square/Diamond Iris 50mm can get shots where the out-of-focus is square. A cool effect for those trying to be new-wave in a different way. This "diamond" bokeh effect could be used for a number of aesthetic, romantic or experimental purposes.
The 50mm f/0.95 is the crowning achievement for the set! Not many lenses with an f/0.95 in the world have ever been made! Let alone one by Zenitar! It is an absolutely gorgeous lens on a full-frame. It's about as good as if Sigma had designed it. It is very sharp even wide open. So sharp, yet with such soft background
My recommendation would be to shoot with this entire set on an alternation of the Sony FS7 and the Sony A7s i or ii! The reason is to be able to use the full sensor at times and also not with the two types of EF adapter: clear/speed-booster. All of my Zenitar non-apsc lenses, other than the 8mm fisheye do not vignette AT ALL on a full-frame. They have such low vignette, it brings a certainly attainable perfection even for a vintage look! The Zuiko lenses may often have somewhat more vignette than the Zuikos. Their overall differences are somehow complementary with very few difficult distinctions.
The Zenitars are a little more gold, the Zuikos are a little more yellow. Which should not be a very hard color difference match. Plus, most lenses would already do this. Part of the reason for the Zuiko lenses being a little yellow is mostly due to them being a faster wide-angle lens. As lenses iris goes brighter, certain colors gain more white for exemplary status.
The real treat of the Zuiko lenses is just their look! They have an 18mm, 21mm, 40mm. These exemplify very cinematic focal lengths and create a noticeable difference. These little Japanese Zuiko lenses offer such a cinematic 3-dimensional look.
Additionally:** The Helios set has the Zuiko 18mm f/3.5, Zuiko 24mm f/2.0, and the 35mm f/2.8 normal lens. If you would like to sub for any of these lenses or add them, feel free to ask.